Improved File System
With a plethora of other lawcus features, we also decided to take an extra step to improve document management for you and your clients. You can now effortlessly upload files through a simple drag-and-drop interface and efficiently organize them into folders, all from one centralized location. Say goodbye to cumbersome file upload processes. This intuitive feature reduces the time it takes to get your documents and files into Lawcus, allowing you to focus on your legal work instead of file management.
Effortless Document Retrieval
We know that accessing your case files and documents is crucial for the success of your legal practice. With the new Lawcus update, you can now download all your files or individual folders effortlessly, ensuring immediate access to your important documents. This ensures that your files stay organized and are easy to manage on your local system.

Here's how you can take advantage of this new feature:
Navigate to the Files Section: Select the "Files" section from the matters, where you can view and manage your files and folders.
Click on the "Download" Button: Look for the "Download" button on the top of the grid and click. For downloading individual files or folders, navigate to the specific file. Look for the download option in the extreme right menu.
Receive a Download Link via Email: After clicking "Download," a .ZIP archive containing your selected files and folders will be prepared. You will receive an email with a download link to this .ZIP archive.
Tip: This feature let's you and your clients both have a first-hand experience of the usability of the newly rebuilt UI, i.e. not just you but your clients can also download documents in just one click. The .ZIP archives are securely created and sent to your email. Our industry-standard encryption protocols ensure the safety of your files.
Seamless Document Uploads
With Lawcus, you can now upload entire folder while retaining it's file structure, seamlessly, eliminating the need to upload files individually and then move them around. Say goodbye to the tedious process of uploading files one by one.
Click on the "Upload a File" Button: Look for the "Upload a File" button in the files section to select and upload your entire folder, including all its files and subfolders. Voilà your files are ready for seamless access and sharing.

Read more about the newly improved file system
Improved Invoicing
We're excited to announce that Lawcus has gone the extra mile to enhance your invoicing experience, combining user-friendly design and blazing speed through a revamped and improved UI. But that's not all; we have also introduced a range of comprehensive features that elevate the invoicing process to new heights, ensuring an exceptional experience for all users. Here's what we have for you:
No More Truncated Descriptions
The newly designed UI allows you to now see the complete description of your activity items while making edits to your invoices. This enhancement will not only simplify your invoicing process but also help you read between the lines and ensure you deliver detailed and transparent descriptions of your activity items.

This feature provides you a more comprehensive view of the services or items you are billing for, improving transparency for both you and your clients. Clear and detailed descriptions help you convey the value of your work or items, reducing the likelihood of misunderstandings and appear more professional.
Tip: You can update the descriptions for existing activity items in your invoices to take advantage of this expanded view. Ensure that your descriptions are clear, concise, and accurately represent the services or items being billed.
Editable Line Totals
With this latest UI update, you can now fine-tune the line totals on your invoices, enabling you to cater to instant rate adjustments without any hassle. This feature offers a high degree of flexibility in your billing process, allowing you to adapt to different scenarios where rates or totals need to be adjusted on the fly. Lawcus instantly recalculates the rate based on the edited line totals, eliminating the risk of billing errors and ensuring the invoice is always accurate. You can accommodate client-specific requests or address unforeseen adjustments without friction.

Here's how you can leverage this new feature:
Add or Edit Line Items: When adding or editing line items within an invoice, you'll notice that the line total is now editable.
Edit Line Totals: Enter the desired line total for each line item, adjusting it to reflect any rate changes or specific client requirements. As you make changes to the line totals, Lawcus dynamically recalculates the rate based on the edited line total, ensuring the invoice's accuracy.
Tip: This feature can be especially useful when providing discounts, applying surcharges, or accommodating custom billing arrangements for specific clients or projects. Be sure to review the invoice after making adjustments to confirm that it accurately reflects the changes you intended.
Add Contacts From Invoices
As a part of the new and revamped UI, you can add new contacts directly while creating an invoice, eliminating the need to manually create a contact profile beforehand. This feature is particularly useful when invoicing someone not already in your contact list, such as a new client or a one-time service recipient.
This feature enhances speed and usability, as you no longer need to leave the invoice creation window to add a new contact separately. You can also choose the prerequisites of the form i.e. what details of the client you need on the add contact form directly from the invoice settings.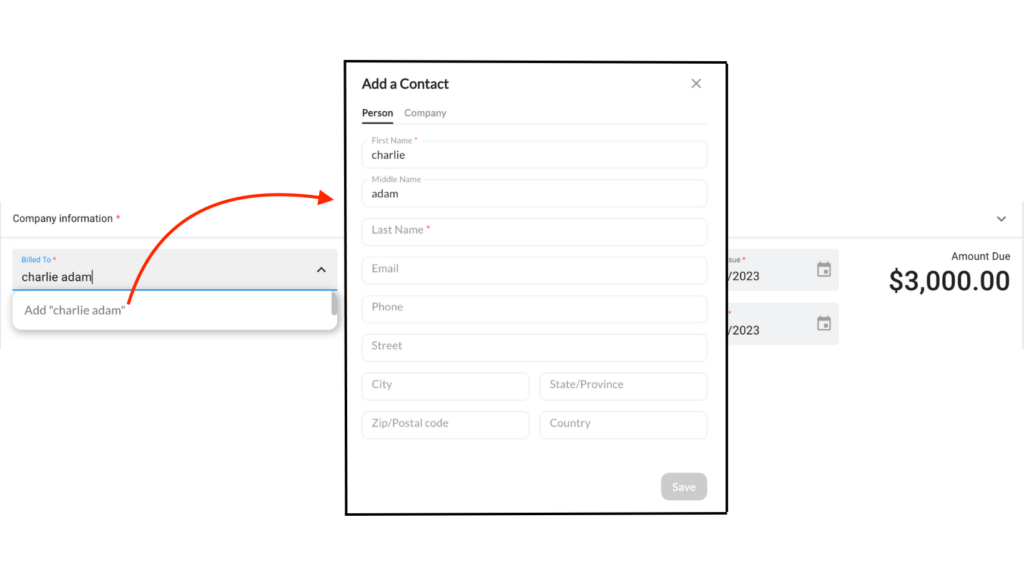 How to Use the New Feature:
Here's a step-by-step guide on how to add a new contact while creating an invoice:
Create a New Invoice: Start the invoice creation process as you normally would. Choose the client for whom you are creating the invoice.
Add New Contact: If the client you're invoicing is not in your contact list, you will see an option to "Add New Contact." Click on this option.
Enter Contact Details and Save: A form will appear where you can input the contact's details, after adding the details click on the "Save Button".
Tip: You can edit the newly added contact's information anytime by accessing your contact list. Lawcus will automatically save the newly added contacts, making it easy to select them for future invoices or matters.
Improved Workflows
Lawcus has introduced two new logic condition options for custom fields in order to streamline workflow navigation: "Exists" and "Does Not Exists." With these additions, users now have greater flexibility and precision in defining their workflow logic, allowing for more nuanced decision-making processes.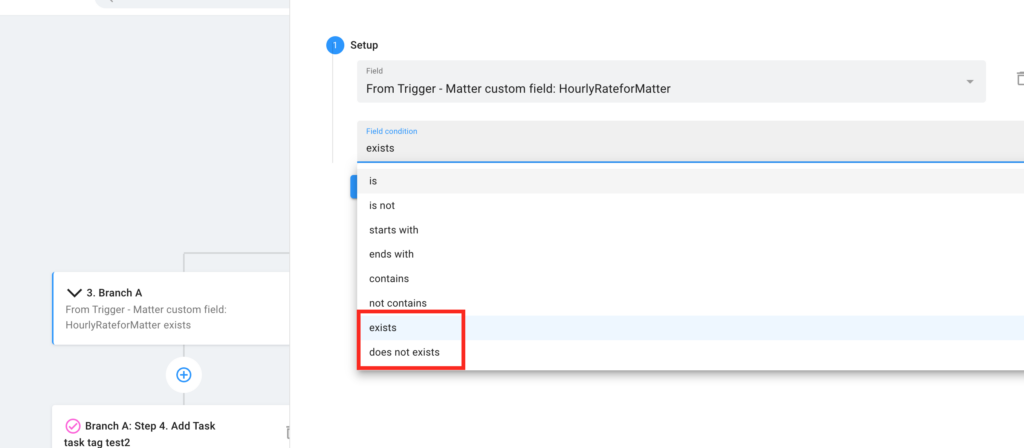 The "Custom Field: Exists" option enables users to establish conditions based on the presence of specific custom fields, offering a tailored approach to workflow management. Alternatively, the "Custom Field: Not Exists" option allows creating workflows based on the absence of certain custom fields, further expanding the scope of logic conditions available.
Client Name on Converted Leads
The inclusion of the "Client Name" column streamlines the process of managing and tracking clients within Lawcus. Users can now effortlessly input and access client names directly in the Converted Leads section, fostering a more efficient and user-friendly experience. This enhancement not only simplifies data management but also enhances the overall organization and accessibility of information for users working with converted leads.

At Lawcus, we understand the unique demands of the legal profession, and we're here to simplify your workflows, improve collaboration, and ultimately, contribute to your success. Our mission is to innovate and evolve new lawcus features to meet your evolving needs continually. For any questions or assistance regarding newly launched lawcus features, reach out to us on chat or support@lawcus.com. Your success is our priority.